LATO Nature Notes Current Issue
Learning Among the Oaks Nature Notes
December 2021
Although this is not the holiday season we all hoped for, there is still much to be grateful for, especially here on the Central Coast. Nature is all around us – wild places to refresh spirits, healthy habitats for wildlife, farms~ranches where families care for the land and produce food, scenic views and trails to explore. 
Your support for The Land Conservancy's (LCSLO) local land conservation efforts makes a big difference and is appreciated.  As LCSLO's outdoor education and environmental leadership program, LATO connects kids, nature and land. 
We thank the children, families, school teachers~staff, volunteers, partners and donors who join hands with us to build a community of kids~future conservation leaders who care for nature and each other. We hope you'll enjoy these recent highlights and that you'll find your own way to be in nature this holiday season. It is a great tonic for these crazy times.
December Highlights
Kids Teaching Kids About Nature
Planting and Caring for Oaks
Monarchs at Black Lake (Jan. 9 Second Sunday in Nature Outing!)
Oak Ambassador Alumna Natalie at Work
Nest Box Stories
Two Bears Meeting on Trail
Let's Celebrate Good News!
Kids Teaching Kids About Nature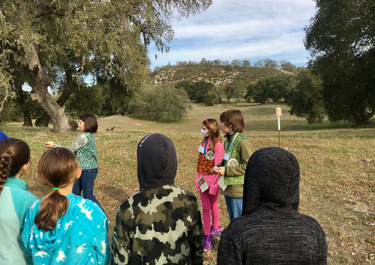 Vineyard Elementary School Oak Ambassadors (top photos) and Santa Margarita Elementary School Oak Ambassadors (bottom photos) have done an excellent job teaching 4th grade classes about plant and animal adaptations this fall. These kids are natural leaders and we're so proud of each and every one of the OAs. Special thanks to VES staff and teachers Dessa Drake and Sarah Goforth for extra help coordinating LATO activities at VES!
Planting and Caring for Oaks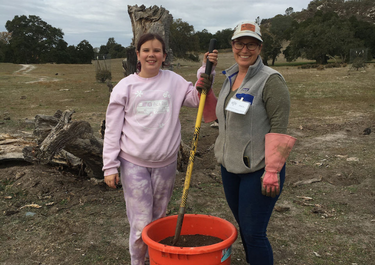 For this month's Second Sunday in Nature outing, we gathered at Santa Margarita Ranch to plant oak seedlings and acorns in the LATO Trail area. The seedlings were started from acorns planted last February. In all, we planted 40 baby oaks (Valley Oak and Coast Live Oak) and more than 100 Valley Oak acorns. Most of the latter were planted in the ground (best place to start); others were taken home in containers. Recommended resource for oak friends: How to Grow California Oaks
 Top L: Lead volunteer Rod Hoadley demonstrates how to plant oak seedlings. We installed gopher cages and protective fencing.
Bottom L: Oak Ambassador Nora and mom/volunteer docent Jen take a break from mixing soil for container plantings.
What's Next? Monarchs at Black Lake
All Oak Ambassador alumni~families are invited to join us for January's Second Sunday in Nature at Black Lake Ecological Area on Sunday, January 9, 2-4 pm. Come learn about the ecology of monarch butterflies overwintering there and about The Land Conservancy's habitat restoration work there. Space is limited; please email lato@lcslo.org to reserve your spots.
Oak Ambassador Alumna Natalie at Work
Ocean View Elementary School 6th grader and Oak Ambassador alumna Natalie Girgis and her mom Irene are new members of the LATO Wildlife Camera Project Volunteer Team. Natalie and Irene are shown here taking care of camera tech jobs at the Pismo Preserve. Natalie has assisted with multiple LATO events and activities. Way to go, Natalie!
Morro Coast Audubon Society volunteer Freddy Howell recently worked with LATO staff and volunteer Jen Lannon to take care of nest box maintenance jobs along the Santa Margarita Ranch LATO Trail. Six of the 8 nest boxes were successfully used, sometimes twice. One of the more interesting finds was the ash-throated flycatcher nest shown at L (with one egg that failed to hatch). Otherwise, looks great!
Two Bears Meeting on the Trail
Our LATO wildlife cameras captured this image of two black bears (notice brown color common among Western U.S. black bears) meeting on a trail in Santa Margarita later this fall. What signal is the standing bear sending? What is the relationship between these two bears? Could it be a mom with an almost grown up cub? Or, is one bear intruding on the other's territory? These are questions curious kids might ask.
Let's Celebrate Good News!
Good news to celebrate as we wrap up this year:
Two new and seven returning LATO volunteer nature docents participated in Nov. 30 training at Santa Margarita LATO base (top L).

Dedicated volunteer Bill Kanne, with help from staff Alex Zewiski, completed the new tool shed for Santa Margarita LATO Trail (top R photo with staff Abigail Craig shown using the shed for oak planting project).

Welcome and congratulations to 23 4th/5th grade students to begin OA training this winter at LATO public partner schools. More than 40 students applied for limited OA training spaces.

Giving Tuesday was a great success! We raised >$9,000 for LATO Nature Classroom improvements. 

Paso Robles Creek is flowing again at the VES Nature Trail! Yeah for rain!
We hope you'll consider a year-end donation to The Land Conservancy in support of LATO. Gifts in any amount – small or large – strengthen and expand our efforts to connect kids, nature and land. Use button below to donate online (select LATO from dropdown menu) or send check payable to The Land Conservancy, marked "for LATO Fund," to LCSLO, P.O. Box 12206, San Luis Obispo, CA 93401.
Thank you!!!
Thank you for taking time for nature notes. Please feel welcome to contact us (use button above) if you'd like more information about LATO projects. 
The LATO Team
Beverly Gingg, Program Manager
Abigail Craig, School Coordinator
Alex Zewiski, Field Coordinator