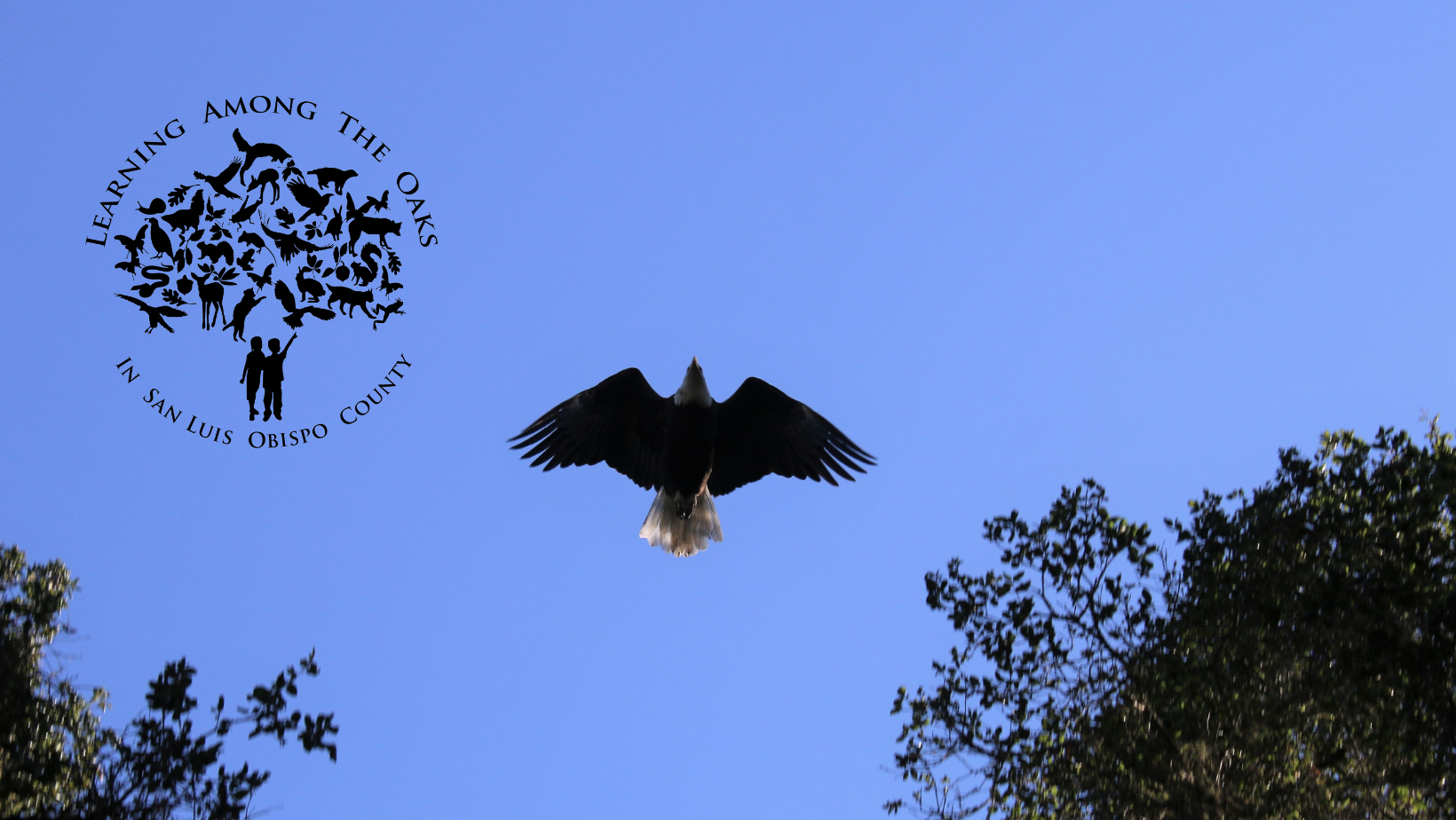 Learning Among the Oaks Nature Notes
October 2021
Welcome fall! The change of seasons brings hopes for a wet winter just around the corner. Let us do a rain dance! For the LATO team, each week's interactions with kids remind us of why we do what we do. Little things can make a big difference. Your support helps us connect kids, nature and land.
Meet New School Site Coordinator Abigail
Abigail Craig spent her childhood in Sonoma where she enjoyed the intimate moments of small town life connected to nature and community.
While studying Geography and Anthropology at Cal Poly and to the present, she has made it her mission to get to know her expansive backyard that is the Central Coast.
Abigail loves biking, climbing, and backpacking, as well as farmers' markets, wildflowers, and backyard dinner parties made from foraged foods. She believes nature-connection is one of the most important things we can do to care for our fragile planet and is thrilled to encourage and empower youth to develop a relationship with the land and share their knowledge with others.
Photo L: Thumbs up for LATO adventures ahead + teaching Oak Ambassadors at Vineyard Elementary School.
Oak Ambassador Boot Camps
Fall days have been full as we prepare aspiring Oak Ambassadors at Vineyard Elementary School (VES) and Santa Margarita Elementary School (SMES) to serve as nature guides for school class hikes starting in November. At Ocean View Elementary School (OVES), we're working on a special project with ten 6th grade Oak Ambassadors (OAs). These motivated OAs are creating a new self-guided Pismo Preserve hike focusing on Chumash community uses of native plants.
Note: We're currently recruiting volunteers to serve as hike docents. If you enjoy exploring nature with children and have a little time to spare (great for retired teachers), please consider applying soon. Nov. 30 is tentative date for docent training (half day). Fall and spring are busiest times for school hikes. Click here for details
OA-in-training photos, clockwise from top L: Santa Margarita student Kailyn (3rd OA in family) practicing trail guide skills, sample oak ecosystem drawing created by Santa Margarita student Boone (also 3rd OA in family), students learning about wonders of botany, Vineyard School OA Boot Camp class.
Find out more about Oak Ambassadors.
Nature Challege Goes Online
In September, we presented the first VES Nature Challenge prize drawing award to Ms. Kladifko's student Mitchell who correctly identified a Flower Fly. Thanks to VES teacher Sarah Goforth for taking the popular Nature Challenge (NC) online. Each month, students find a new NC - part of nature found in our own backyards - to try to identify using clues provided. The NC started with LATO in 2005 at SMES with inspiration from Chief Nature Detective Marguerite Costigan.
Second Sundays in Nature Kick-off
This November, we'll launch the start of Second Sundays in Nature, an opportunity for Oak Ambassador alumni + families from all schools to come together each month for a variety of outdoor adventures (different place each month) and stewardship activities.
For the kick-off, we'll hike the Pecho Coast Trail with Docent Sally Krenn and learn about Climate Change with PG&E Meterologist John Lindsey at Point San Luis Lighthouse. It's a moderately strenuous hike with breathtaking views.
Sunday, November 14, 1 - 4:30 pm
Space is limited; RSVP required. Click here to RSVP and provide input to help plan future Second Sunday adventures.
Each fall, The Land Conservancy invites members and volunteers to pick apples (one bag free) at their apple orchards off San Luis Bay Drive. This year's apple picking will be held on Friday, Oct. 29, 4-6 pm. RSVP required; map and directions will then be sent to you. Click here for info. and online registration.
Special note for LATO families: You're invited to come at 3:30 pm (before 4 pm start) so that we can connect. If you're the festive type, put on a costume to get in the spirit of Halloween!
Dedicated volunteer Bill Kanne has been hard at work constructing a new tool shed for use at the Santa Margarita Ranch LATO Trail and trailhead Gateway to Nature. LATO Program Coordinator Alex Zewiski has been working with Bill as needed. The shed is located on Atascadero Unified School District (AUSD) property; this project has been made possible by donors and our longtime partnerships with AUSD and Santa Margarita Ranch.
Morro Coast Audubon (MCA) is offering 10 scholarships to the virtual Central Valley Birding Symposium to be held on November 19 and 20. This is a wonderful opportunity to participate in one of California's premier bird festivals. Presenters are a "who's who" of the birding world. The Bird Identification Panel is not to be missed! Your registration must be completed by MCA. For questions or to register, please contact Karen Beckman at beckmank00@gmail.com.
Remembering and Honoring a Life Well-lived
Many in our community and beyond are mourning the passing of longtime San Luis Obispo resident Marion Wolff and celebrating her extraordinary life. We are grateful to Marion's husband Paul (shared 61 years together) and family for choosing The Land Conservancy ~ LATO Fund as a beneficiary of memorial contributions (see obituary at link above).
Your support helps build a community of kids who care about nature and each other. Let us celebrate more Lives Well Lived* in the future. *Award-winning film sharing the wit and wisdom of people ages 75-100 years, including Paul and Marion Wolff, living meaningful lives.
The best remedy for those who are afraid, lonely or unhappy is to go outside, somewhere where they can be quiet, alone with the heavens, nature and God. Because only then does one feel that all is as it should be. ---- Anne Frank
Thank you for taking time for nature notes. Please feel welcome to contact us (use button above) if you'd like more information about LATO projects.
The LATO Team